CRAZY BIG NEWS
My dear readers, I have been lying to you by omission, mostly because I'm paranoid and superstitious. Now it's time for me to come clean.
1) I have written a novel.
It's a young adult sci-fi, and I promise to tell you more as it gets closer to actually coming into the world. But yes, it does have spaceships. Over the past six months, I've been polishing it and submitting it, which leads me to my next piece of news. . .
2) I have found a literary agent to represent me and said novel.
It's
Kate Testerman Schafer
of
K.T. Literary
. She also represents my good friend
Stephanie Perkins
and a ton of other authors whose work I either already love or am anxious to get my grubby paws on, including Maureen Johnson, Julia Karr, Ellen Booraem, and Ransom Riggs.
I'm almost indescribably excited about this. Kate has an amazing reputation for being both a genuinely nice person and a crackerjack agent, and she likes my book. She likes MY book!
Okay, I need to calm down, because I'm getting into Sally Field territory here.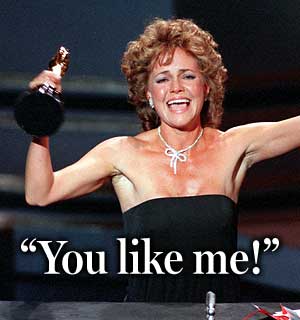 Anyway, now that my book and I have an agent, I no longer feel that telling you about it is tempting fate to squash me with falling satellite detritus or subject me to spontaneous human combustion. This is wonderful news coming at the end of a very hard two years, and I am so grateful and thankful to all the people who helped me get this far: my husband, Jeremy; my friends, Stephanie, Nathan, and Dora; Gordon Van Gelder at F&SF, and now, Kate!
I hope all of you have a wonderful Thanksgiving!